Monnickendam
This picture is an aerial view of the city of Monnickendam which will be one of the first places we bike to when we leave Amsterdam.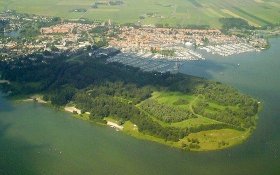 So now that I am looking at the map, it seems there are 2 lakes we will be travelling around. The historic city of Monnickendam is on the Markermeer (lake Marken). It is divided from Lake Isjelmeer by the Markenwaardijk.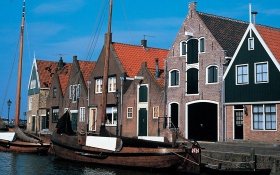 Monnickendam became a city in 1355. At that time it was on the shore of the Zuiderzee. The Zuiderzee was the bay from the North Sea before they built the Afsluitdijk to block it off to become the Isjelmeer and Marken Lakes. Much of city was destroyed by fires but the Speel Tower can still be admired and there is a museum there as well. There is a beautiful drawbridge over the harbour. Monnickendam is a water city and a great place to take a boat tour or go sailing. If we were going to stop to eat here it sounds like a good place is the Suitehotel Posthoorn which is located in the historic center.
Volendam
Next is an old fishing village – Volendam. It is famous for its splendid harbour, fishing trade, authentic Dutch character and traditional clothing. In other words: it is a great place to visit, no matter the season!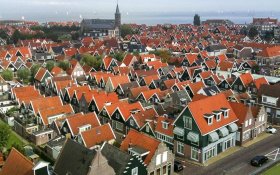 Edam
Wikipedia info on Edam includes some interesting places to see and do. The Old City Centre has St. Nicolas Church, the Town Hall, The Edam Museum, Carillon (church from 1350 which still has a bell tower that rings out every 15 minutes), and the famous cheese market. The town Edam gets its name from the cheese called Edam.
Warder
Warder is a small village we bike through. The population is less than 800 people.
Etersheim
Etersheim is very small – less than 55 people living here.
Schardam
Strandpaviljoen Oranje Buiten in Schardam sounds like a great place to stop with great reviews. A great place to stop, relax, eat, listen to music and enjoy the beach and water.
Also the museum "Het Schooltje van Dik Trom" would be interesting to visit. It is an old school house.
De Hulke
De Hulke is a 58 acre nature and recreation reserve and includes "grazing cattle and sheep in the meadows beside the forest area." It says the area is also a canoe interchange station- hmmm I wonder what this is?
Our first day of biking I think will also be our longest – at 56 km. It sounds like before we get to Hoorn we will have lots to see and do along the way. We will have to decide where we would like to stop and how much time we have for sightseeing to make sure that we get to Hoorn by day's end.
How can you help?
If you have been to any of these places, please let us know. Let us know what are the best things to see. Where are the best places to eat? What do we not want to miss? Thank you!
Next stop – Hoorn, which is where we will be staying our first night.